Our Latest Kickstarter Was A Huge Success!
Thanks to our amazing Backers, we've reached our target and have begun making our new range of bricks and colours:
the world's first 2×1 equilateral triangle brick
a round 2×2 brick with axle hole
eight new brick colours
glow in the dark tendons!
They are now available in our online store, or you can click here to learn more about Kickstarter.
What is Flexo? It's a whole new universe of possibilities!
Bounce, flex, bend, wrap or wear – the choices are seemingly endless. Flexo uses a unique rigid construction brick and flexible tendon that allows you to truly flex your imagination and create designs you never thought possible.
It is great fun by itself, but is even more amazing when combined with your own brick collection. Together they create endless opportunities and amazing functionality.
Flexo is 100% compatible with LEGO® and other major brick brands and is the ultimate expansion pack to your brick collection.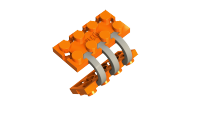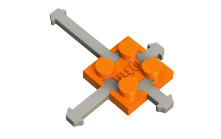 Subscribe today for Sneak-Peeks, Giveaways, News, Special Deals and Flexpert Tips from Flexo: